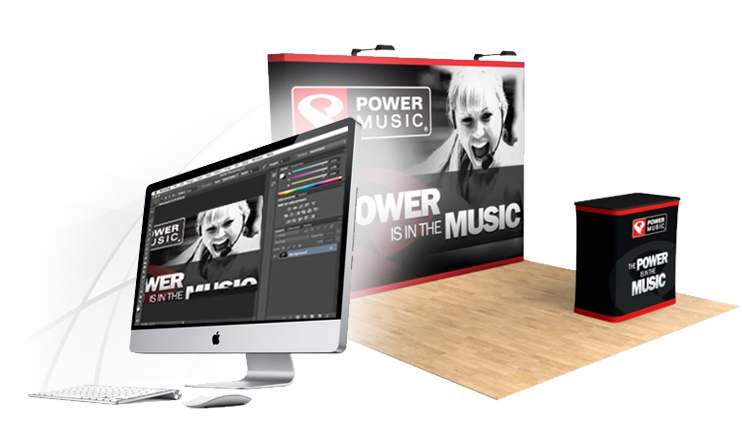 A recent survey shows that 67% of new exhibitors wish they had put more effort into their booth design. After all of the planning, stress, money spent, travel, and organizing, the booth design often ends up as an after thought. Don't be a statistic! You only have a few seconds to grab the attention of your prospective clients and your booth graphics mean everything.
Our dedicated team of in-house designers are experts in their field, with years of experience, committed to providing our clients with the most effective artwork designs possible. We understand how to effectively create a custom design that will communicate your company's purpose and draw perspective clients in.
The design process is relatively straight forward in that we will take all of your text (such as taglines or bullet points), logos, pictures and/or vector art, and place this in a unique and professional large-format design. Once we have received all of your design elements, we will schedule a design consultation so you may discuss your project and brainstorm with a member of our team. At that point, you will have the opportunity to give your designer as much or as little creative freedom as you would like! Some clients prefer to provide a mockup or drawing, while others will say "give me something modern," or "follow my current branding guidelines."
Our dedicated trade show designer experts are here to bring your brand to life!
Reach out to one of our design experts today for more information and details on our in-house services, or click here to purchase design services now.